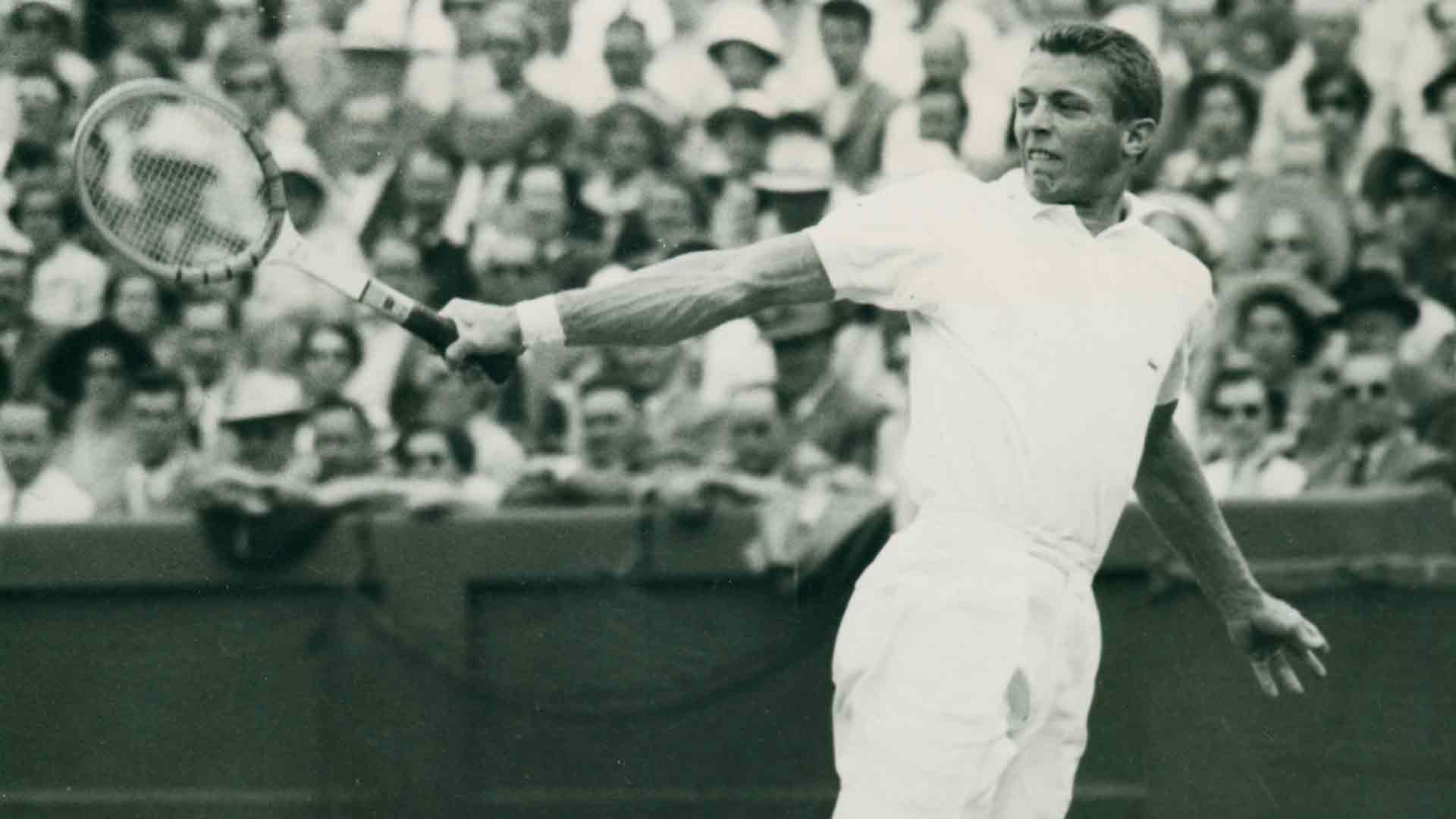 The body may have a few battle scars now, but the mind of Tony Trabert, who on 16 August celebrated his 90th birthday, is as sharp as ever. From his home in Ponte Vedra Beach, Trabert, the legendary player, CBS commentator and ambassador for the sport, reads, watches sport on television, occasionally runs errands with his wife, Vicki, and plays host to his great grandchildren.
In witnessing today's modern, power era, it's easy to forget that Trabert, the stylish serve-volleyer with a superb backhand, was known the world over for his three Grand Slam singles titles in 1955, a year he lifted 18 trophies (104-5 match record). That fall, Trabert turned pro with Jack Kramer's circuit and in playing retirement, for the next 50 years, he continued to dedicate — and enrich — the sport of tennis with his talent and good humour. By running successful junior tennis camps, as a United States Davis Cup winning captain, as a television commentator for 33 years or, most recently, as President of the International Tennis Hall of Fame, he attracted new fans to tennis.
Happy birthday, Tony. We hope you'll be following the ATP Tour's return this week.
Profile below courtesy of the late Bud Collins (1929-2016) Tennis Encyclopedia
One of the finest seasons ever achieved was the 1955 of Tony Trabert, who won three of the Big Four singles titles – Wimbledon, Roland Garros and U.S. – to earn acclaim as the No. 1 amateur of that year. Only three other men, Don Budge (1938) and Rod Laver (1962 and 1969), en route to their Grand Slams, and Rafael Nadal (2010), have won those three championships within a calendar year.
Moreover, Trabert also won the U.S. Indoor and U.S. Clay Court titles, adding them to the pre-eminent American championships on grass at Forest Hills. For that year, probably the most productive ever by an American man – 30 titles – he won 18 of 23 singles tourneys on a 106-7 match record. Included was a winning streak of 36 matches. He also won 12 doubles titles (with Vic Seixas).
An exceptional athlete, Marion Anthony Trabert was born Aug. 16, 1930, in Cincinnati, where he grew up. He was a standout basketball player at the University of Cincinnati, for which he also won the U.S. Intercollegiate singles title in 1951.
The French Championships has traditionally been the most difficult battleground for American men. Trabert won five titles in Paris, the singles in 1954 and 1955. It was 34 years before another American, Michael Chang, won in 1989. Trabert also won the doubles in 1950 (with Bill Talbert) and in 1954 and 1955 (with Seixas). Only a defeat by Ken Rosewall (the eventual champ) in the semi-finals of the Australian Championships ruined Trabert's chance at a Grand Slam in 1955.
For five years Trabert was a mainstay of the U.S. Davis Cup team, along with Seixas. In each of those years the U.S. reached the challenge round finale, and Trabert's best-remembered match may have been a defeat, a tremendous struggle against Lew Hoad on a rainy afternoon in 1953 at Melbourne. Hoad won out, 7-5, in the fifth, and Australia kept the Cup. However, Trabert and Seixas returned to Australia a year later, where Trabert beat Hoad on the opening day in singles and he and Seixas won the doubles over Hoad and Rex Hartwig in a 3-2 triumph, the only U.S. seizure of the Cup from the Aussies during an eight-year stretch.
Though an attacker with a powerful backhand and strong volley, the competitive right-hander also had exceptional groundstrokes. In winning the U.S. singles at Forest Hills twice, 1953 and 1955, and Wimbledon, 1955, he did not lose a set, a rare feat. Amassing 13 U.S. titles in singles and doubles, he was one of two Americans (the other was Art Larsen) to win singles championships on all four surfaces: Grass at Forest Hills, indoor, clay court and hard court.
Following the custom of the time, Trabert, as the top amateur, signed on with the professionals to challenge the ruler, Pancho Gonzalez, on a head-to-head tour in 1956. Gonzalez won, 74-27. Trabert was runner-up to Alex Olmedo for the U.S. Pro singles title in 1960, having won the doubles with Hartwig in 1956.
When his playing career ended, Trabert worked as a teaching pro and as a television commentator on tennis. In 1976 he returned to the Davis Cup scene as the U.S. captain, leading the Cup-winning teams of 1978 and 1979. He had four years in the U.S. and world's Top 10, 1951, 1953, 1954 and 1955, No. 1 in each in 1953 and 1955, before turning pro. His amateur career was interrupted by service in the U.S. Navy. He was named to the International Hall of Fame in 1970.
MAJOR TITLES (10) – Roland Garros singles, 1954, 1955; Wimbledon singles, 1955; US Nationals. singles, 1953, 1955; Australian Open doubles, 1955; Roland Garros doubles, 1950, 1954, 1955; US Nationals doubles, 1954.
OTHER U.S. TITLES (13) – Intercollegiate singles, 1951; Indoor singles, 1955; Clay Court singles, 1951, 1955; Hard Court singles, 1953; Indoor doubles, 1954, with Bill Talbert; 1955, with Vic Seixas; Clay Court doubles, 1951, 1955, with Hamilton Richardson; 1954, with Seixas; Hard Court doubles, 1950, 1953, with Tom Brown; Pro doubles, 1956, with Rex Hartwig.
DAVIS CUP (As player) – 1951, 1952, 1953, 1954, 1955; Record 16-5 in singles, 11-3 in doubles; (As captain) – 1953, 1976, 1977, 1978, 1979, 1980; Record 14-3, 2 Cups.
SINGLES RECORD IN THE MAJORS – Australian Open (4-2), Roland Garros (18-2), Wimbledon (13-2), US Nationals (23-5).